Harris Corporation - Rfcd Driver
Careers at Harris. As one of the country's leading mechanical contractors, Harris offers you the best of both worlds: the stability, resources and opportunities of a national company, and the team culture, creative spirit and customer loyalty of a local business.
Find Harris Corporation jobs in Satellite Beach, FL. Search for full time or part time employment opportunities on Jobs2Careers.
Currently Hiring Class A Drivers Call Now: (513)541-4222 +1. Harris Distributing Co. 'since 1934' Domestic shipping.
The Harris leadership team is composed of industry professionals whose experience, backgrounds and strengths bring value to our customers. The team works collaboratively to drive the focus, direction and profitability of Harris, and to align with our brand promise: Creatively solve problems to deliver exceptional customer experiences.
Executive Leadership Team
Harris welcomes feedback on how we provide accessible customer service. Customer feedback will help us identify barriers and respond to concerns. Customers who wish to provide feedback on the way Harris provides services, goods or facilities to people with disabilities can provide feedback in the following ways: Telephone: 1-613-226-5511.
Greg Hosch, Board Chair
Greg has more than 25 years' experience at Harris. He brings both practical insight and forward thinking to business opportunities and is constantly driven to imagine a new and better future for Harris. Under his direction, Harris has strengthened its reputation as a unified, nationwide company that leverages its deep expertise for projects both small and epic. Greg holds a B.S. in Construction Engineering from Iowa State University.
Michel Michno, Chief Executive Officer
Michel has more than 30 years' experience in the construction industry, including international experience in Europe, Asia, Africa and Central and South America. His broad background includes expertise in building envelopes, building Interiors, ornamental metals, sheet metal and HVAC. Michel has a self-described passion for design and manufacturing for construction. He is adept at automating the design and construction process to increase efficiency and has a strong record of growing companies both organically and through acquisition. Michel earned his master's degree from the Arts et Métiers ParisTech, a prestigious engineering school in France.
David Barnes, Senior Vice President, Chief Financial Officer
David is a respected finance leader with more than 25 years of experience and a track record of delivering excellent results. A unique operational background enables him to build strong partnerships across the business to solve complex issues, plan strategy and drive successful financial outcomes. David is known for having a respectful, successful and energetic style of leadership. He has an MBA in Finance from New York University and a bachelor's degree in business administration and accounting from the University of Iowa.
Darrel Bugel, Senior Vice President
Darrel has over 30 years of industry experience working in various leadership roles including Project Manager and Chief Estimator. With Harris since 1997, he brings his expertise and management skills to every project, ensuring value and quality along the way. He has overseen projects across the spectrum, including stadiums, airports, commercial, education and healthcare facilities. He holds a B.S. Mechanical Engineering from University of Wisconsin-Madison, and an MBA from Ohio State University.
Brenda Devlin, Senior Vice President, Human Capital + Business Support
Brenda is a proven leader who oversees human capital development and all its functions. She focuses on aligning business initiatives with strategy and culture to ensure business results, while helping employees develop their potential. Brenda has experience in acquisition and succession planning, M&A due diligence and integration, strategy development and execution and marketing communications.
Brenda has an MBA in International Business and Human Resources from The University of Kansas and a B.A. in French and Spanish. She is certified as a Sr. Professional in Human Resources, SHRM-Senior Certified Professional, Certified Benefits Professional, Project Management Professional and Certified Six Sigma Green Belt. She currently serves on the board of a Minnesota non-profit.
Greg Donley, Senior Vice President + General Manager
Since 1990, Greg has held various leadership roles managing Harris' full service mechanical contractor division. He has developed productivity tracking and lean manufacturing practices and a strong business platform. He is also adept at engaging with customers, partners and his team toward the successful delivery of quality solutions. He is active in numerous industry associations and holds seats on several boards. He earned an accounting degree from Winona State University and is LEED and OSHA 30 certified.
Dan Nygaard, Executive Vice President + Regional Manager, Operations, Safety Committee Chair
Dan brings to Harris and its customers extensive experience in the energy, building and utility industry. He is passionate about delivering exceptional value to customers and getting remarkable results with remarkable people. In his broad and diverse career, he has led various functions for Fortune 500 companies including Operations, Marketing, Human Resources, Safety and the Customer Experience. Dan has a B.S. in Mechanical Engineering from the U.S. Naval Academy and served as an officer in the Navy's Civil Engineer Corps. He also has an MBA from the University of Rhode Island and is a Registered Professional Engineer.
Randy Richter, Integration Leader
Randy has worked at Harris for more than 20 years and has been president of our HVAC sheet metal contracting business since 2010; it ranks as one of the country's leading sheet metal contractors. Randy leads a dedicated team with experience working on a variety of large technically challenging projects ranging from laboratory and healthcare facilities, to high rise commercial buildings and nuclear facilities. He works to build long-term relationships with customers. He has more than 40 years of industry experience and holds a Bachelor of Science degree from Arizona State University.
Zach Sargent, Executive Vice President
Zach has more than 25 years of experience in HVAC mechanical systems design, manufacturing and construction. He has worked in a variety of key roles and several locations at Harris prior to his appointment to VP of Operations, managing numerous healthcare, industrial, commercial and public projects. He enjoys building teams and delivering projects by using his expertise in planning, design, execution and leadership. Zach is active in a number of industry associations such as LCI, P2SL, ASHE, DBIA, ASHRAE and AIA. He studied Manufacturing Engineering at Weber State University in Ogden, Utah.
Bob Swanger, Executive Vice President
Bob has nearly 30 years of experience in the HVAC, plumbing, building automation and facility management industry. His track record of delivering results through collaboration, an unparalleled work ethic, a fiercely competitive spirit and a passionate drive to innovate has immediate and meaningful impact with everyone he meets. He has held positions from entry-level sales rep to senior vice president and managed P & Ls for small family-owned businesses and large multi-million dollar regional and national businesses.
Bob is a LEED AP, has an undergraduate degree from St. Cloud State University and an M.B.A. from the Jack Welch Management Institute at Strayer University.
Todd Thiele, Vice President, Building Automation
Todd has contributed to the success of Harris for more than 20 years, most recently in the controls division. He leads a highly skilled national Team of Building Automation System specialists, who are driven to partner with customers in achieving their controls, integration, energy conservation, and IOT goals. Todd has a technical degree in HVAC/R.
PMO's and methodologies must be designed explicitly to focus on the aspects of performance that are most important.
Harris Corporation is a leading technology innovator, solving customers' toughest mission-critical challenges by providing solutions that connect, inform and protect. Harris supports government and commercial customers in more than 100 countries and has approximately $6 billion in annual revenue. The company is organized into three business segments: Communication Systems, Space and Intelligence Systems and Electronic Systems. ','raw':false},'hSize':null,'floatDir':null,'html':'','url':'https://youtu.be/4qRt9yx1ayk','width':854,'height':480,'providerName':'YouTube','thumbnailUrl':'https://i.ytimg.com/vi/4qRt9yx1ayk/hqdefault.jpg','resolvedBy':'youtube'}'>
Harris Corporation is a leading technology innovator, solving customers' toughest mission-critical challenges by providing solutions that connect, inform and protect. Harris supports government and commercial customers in more than 100 countries and has approximately $6 billion in annual revenue. The company is organized into three business segments: Communication Systems, Space and Intelligence Systems and Electronic Systems.
Harris Corporation - Rfcd Driver Side Mirror
Challenge
There is a reason why Harris Corporation's RF Communications Division (RFCD) is number one in the global tactical radio market. Harris delivers technology that makes battlefield communications reliable, secure, and simple. Harris's comprehensive line of software-defined radio products and systems supports the most critical missions around the world. The need to bring these solutions to market fastest throws the importance of Project Management into sharp relief.
Solution
Harris Corporation - Rfcd Driver License
We analyzed our client's strategies, distinguished time-to-market as their primary imperative, and performed an assessment to lay the foundation for development of an Organizational Project Management system that optimized TTM. Through a series of engagements, we assessed the organization's Project Management capabilities associated with the Systems, Software, and Hardware engineering disciplines, and proposed a strategy for implementing their PMO that would effect TTM, radically accelerating Harris's product development. The assessment focused on multiple product development engines and Project Management practices, incorporating interviews and artifact analysis.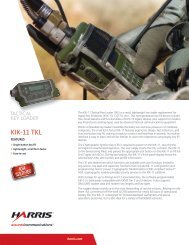 Results
Harris Corporation - Rfcd Driver Updater
OPM Experts helped the client to discern how to reduce 'process complexity' (or connections among processes) by a sea change factor of 2 to 1 within a multi-model process environment that included ISO-9001-2000, OPM3, CMMI, and Lean product development initiatives. We emphasized a strategy for leveraging the process-oriented culture to effect a transformation of the Project Management culture. We provided a roadmap for implementing a PMO to oversee the creation and deployment of lean Project, Program and Portfolio Management processes that enable a lean project management culture responsive to the client's strategic growth imperatives. Our client reported schedule acceleration of up to 30% on product development projects governed by the Time-to-Market system that we designed, predicated on the preceding assessment by OPM Experts LLC.
Comments are closed.